AmpCoil Therapy
AmpCoil Therapy uses Pulsed Electromagnetic Frequencies (PEMF) to mimic Earth's naturally soothing sound waves and aligns your body back to its natural rhythm. This localized, non-invasive process uses frequencies with varying intensity that restores cell systems back to their healthy state. It's best known in the industry for easing the symptoms of chronic ailments such as Lyme Disease, and it's FDA approved to help with bone growth stimulation, severe depression, postoperative pain and swelling management. Our AmpCoil wellness equipment makes this ground-breaking technology accessible for anyone to find relief fibromyalgia, arthritis, headaches/migraines, chronic back pain, and Lyme disease with its many co-infections.
Read more about the equipment and technology at AmpCoil.com and Natural Awakenings.
Our therapy starts with the initial consultation where you'll complete a biofeedback reading to determine your Ampcoil needs. You'll then receive a detailed wellness plan with a series of customized AmpCoil sessions and lifestyle wellness tips.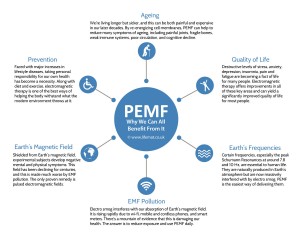 Our 30-minute Ampcoil Sessions help with:
Hormone Therapy
Adrenal and Reproductive Support
Thyroid Balance
ED (Erectile Dysfunction)
Pain and Nerve Release
Immune Boost
Headache Help
Head or Chest Cold
Mind Balance
Depression
Sleep
Relax
Brain Recharge
Earth Groundling
Full Moon
Our 60-minute AmpCoil Sessions help with:
Whole Body Organ Boost
Parasite Detox
Cleanses
Initial Consult
Includes an initial biofeedback reading to assess your health and determine your AmpCoil needs. Based on the results you'll receive a detailed wellness plan for your success.
AmpCoil Session (60 minutes)
May be scheduled for the Whole Body Organ Boost, Parasite Detox, and Cleanse programs.
AmpCoil Session (30 minutes)
May be scheduled for the Hormone Therapy, Adrenal and Reproductive support, Thyroid Balance, ED (erectile dysfunction), Pain and Nerve Release, Immune Boost, Headache Help, Head or Chest Cold, Mind Balance, Depression, Sleep, Relax, Brain Recharge, Earth Grounding, or Full Moon programs.
Biofeedback Recheck
Used to pinpoint any new issues that you may be experiencing, or as a checkpoint to see how our AmpCoil efforts are working while trying to resolve a specific concern.
Biofeedback Recheck + 30-minute AmpCoil Session
Group AmpCoil Session
Choose a monthly plan that works best for you.
Bronze (up to two 60-minute AmpCoil sessions)
Silver (up to four 60-minute AmpCoil sessions)
Gold (up to eight 60-minute AmpCoil sessions)
*Monthly memberships require a three-month commitment upon enrollment.
*Unused sessions in the monthly memberships do not roll over into the next month.