BioNox Smart Pulse
Physical and emotional stress can have serious consequences on your body. Heart health and stress are the two main reasons for doctor visits today. With the help of BioNox Smart Pulse, we're able to test the health of your heart and nervous system to keep you on track. The Smart Pulse is able to run an Autonomic Nervous System (ANS) function test, measure the minute change in heart beats (HRV), detect pressure change in blood vessels, and run a breathing exercise function (RSA).
We use this non-invasive technique as a stand-alone service to track your heart health and provide you with a plan to start living a healthy life. With Smart Pulse you can test today, adjust your lifestyle with things like proper nutrition, rest, and breathing exercises, then test again later to see if there are any improvements. This service also pairs nicely with our Wellness services and Fitness programs to ensure that you're getting the best results possible.
BioNox Smart Pulse Measures:
Large artery, peripheral artery, and overall circulation
Grades arteries on a scale of 1-7 (with 1 being the healthiest
Determines electrical or rhythm issues with the heartbeat
ANS (Autonomic Nervous System) function test
Tests sympathetic and parasympathetic balance
Indicates physical or emotional stress
Breathing exercise function (RSA)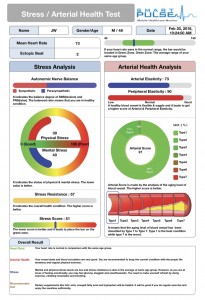 To get the most out of Smart Pulse, we recommend you plan on doing multiple readings to help track your health over time.
$25 Single Visit
$75 Smart Pulse Package – 4 readings with the BioNox Smart Pulse.
*Must use within 6 months of purchase.